Experienced Oxnard Motorcycle Injury Attorneys
Many certainties follow a serious motorcycle injury. The certainty of serious accidents and scarring, and their effects on employment, family life and mobility. The certainty of medical expenses. And the certainty of frustration when negligent drivers aren't held responsible.
At The Law Offices of Richard L. Francis and Associates we add one more certainty—that you will receive dedicated, diligent and effective legal representation and help following your accident. The attorneys at our firm will work to:
Help you find doctors who will provide detailed documentation on how your injuries affect your kids, marriage, job and life, and by arranging medical liens when medical insurance issues prevent you from receiving the care you need.
Visit and photograph the accident scene, hire investigators and other professionals to strengthen your case and review any witness statements.
Create demand packages that include police reports, photographs of the accident scene, photographs of the other vehicle(s), copies of neurological, surgical and other medical billing, and photographs of tubes, monitors and injuries.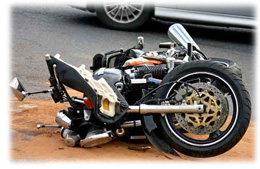 The attorneys at our firm have decades of experience handling personal injury and wrongful death cases. Our goal is to help you get the compensation you deserve for your loss of income, and for injuries like scarring, herniated discs, numbness, mobility issues and paralysis. By thoroughly preparing your bike crash case from the start, we are always prepared to enter negotiations or trial with a fully prepared and strongest-possible case.
Call Us Before It's Too Late
If you have been injured in a motorcycle accident, contact a firm that:
Has recovered multiple six- and seven-figure settlements in personal injury cases
Has attorneys who are members of local trial organizations
Employs a former insurance adjustor who is familiar with insurance defense attorneys' tactics, limits and procedures
We offer free initial consultations, are conveniently located in Heritage Square in downtown Oxnard, and offer Spanish speaking services. To contact a lawyer, call 805-485-8888.